The SDPS (Swindon Diesel Preservation Society) was formed in a compartment of a Class 126 trailer car in 1982 when the founding members decided to act to save a unit before the class disappeared. It was the first group in Britain set up specifically to preserve a DMU – the aim was to restore it to as near original condition as possible and repaint it green. Another important function of the SDPS is historical research on the BR career of the class with the intention of building up a detailed archive collection.
The Society successfully purchased DMBS 51043, DMS 51017 and TCK 59404 in 1983. They were complete and in running condition, and initially located on the Caledonian Railway at Brechin / Bridge of Dun. This Railway had recently been established and would take several years before it opened properly to the public.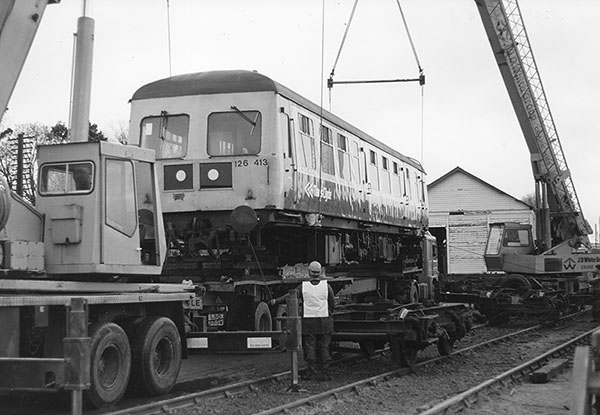 51043 being off-loaded at Brechin after the road move from Lawrencekirk.
As the years went by the vehicles were deteriorating faster than the work parties could handle, they still contained asbestos which was becoming a major problem and a major liability. The solution involved the SDPS selling the vehicles to the Scottish Railway Preservation Society (SRPS) and moving them to the Bo'ness & Kinneil Railway where the new owners – as an established charity – were able to obtain grants for the asbestos removal and rebuilding. The Swindon Diesel Preservation Society in effect then became a support group looking after the DMU vehicles, without any liabilities that owning vehicles entails.
The SDPS publishes a quarterly newsletter—White Circle News— (it's name taken from the vehicle's unique coupling code) keeps members up-to-date with progress and related developments and also publishes information on the BR careers of all four classes of Swindon-built DMU. A sample issue can be found here.
SDPS members form the regular work parties at Bo'ness to continue the restoration of the vehicles, involving all aspects of railway preservation and many different types and levels of skills. You are welcome to join us.
More details about joining the society can be found here.