Sign In
---
Remember Me
Historical Significance of the Class 126 DMU
2003 saw the end of an era on Scottish railways, with the final examples of first generation Diesel multiple unit trains finally ending operations in favour of newer Sprinter type units. With the run-down of these types over the years, it is difficult to imagine the revolutionary impact the new trains must have made upon introduction. The colourful interior design with bright, contemporary fabrics was revolutionary at the time and represented a major improvement in comfort to the travelling public of the day.
The Class 126 was one of the first types of DMU to be introduced: The original E&G cars were a high specification type for inter city use and were used on the premier Scottish Region service from Glasgow to Edinburgh. The quick 'turn around' allowed by the Diesel Multiple Unit concept revolutionised services. The later built 1959 sets (of which the preserved unit is one), were specially built for services from Glasgow to Ayrshire and Stranraer.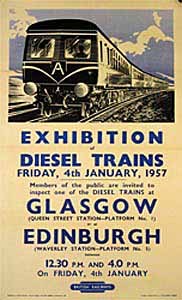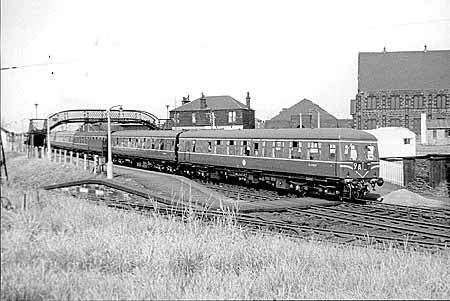 The Swindon Intercity DMU vehicles are historically extremely important: The bodywork, although outwardly similar to contemporary Mk1 designs, uses a semi stressed bodyshell. Comparison with an ordinary Mk1 passenger coach of the same period reveals that the Swindon vehicles have no underframe truss rods (angle iron framing under the body). The lack of underfloor trussing was important to the DMU design as it allowed the full underframe area to be utilised for engines, gearboxes and other equipment.
In this respect the class 126 bodyshell was a significant intermediate step between the first of the British Railways coach designs, the Mk1, and the later Mk2 series. One of the Swindon Intercity vehicles (Car Sc79470, from the early Edinburgh-Glasgow batch) was sent to Vitry in France for stress testing on the SNCFs test rig. The last surviving E&G vehicle in the UK, Sc79443 is also in the SRPS collection.
Our unit was the first DMU in the UK to be preserved on account of it's historical significance, and although we did not expect this at the time, it would become the only complete example of the Swindon designs to survive. The 1st generation DMU designs owed a great deal to the pioneering work of the GWR at Swindon in developing diesel railcars and it is regrettable that (with the exception of a solitary Class 120 trailer), none of the highly regarded Swindon Cross Country (Class 120), Trans-Pennine (Class 124) or later Intercity units (Class 123) survive.