Next restoration day
To be announced
Next running day
To be announced
Latest newsletter
Issue 147, Winter 2018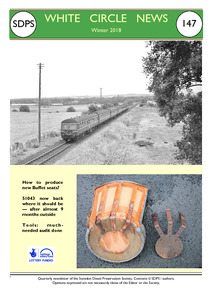 The latest issue of the Society's newsletter White Circle News is number 147. Featuring all the latest restoration news as well as historic features and photographs, the newsletter is available to Swindon Diesel Preservation Society members. Find out more about membership here.
2019 Winter Woollies Work Week
This year our winter restoration efforts shall focus on progressing the interior of the Edinburgh/Glasgow Buffet car Sc79443.
Recent work weeks have tended to focus on the bodywork of this vehicle due to the once critical state of corrosion. The situation is now much more stable and almost all of the structural steelwork on the bodysides and floor is complete. One corridor end remains to be completed in addition to patch roof repairs.
This year's winter efforts can be concentrated on a surge in progress with interior fitting out and we hope to make significant progress with rebuilding the compartments and buffet area. We shall undertake a variety of work, but concentrate on the "big" tasks that are normally beyond the capacities of our regular Sunday team.
Materials have been prepared in advance and we are raring to go! As always, new volunteers are most welcome. Feel free to get in touch in advance if you wish to participate or just turn up on the day.
The 2019 Winter Woollies Work Week shall take place from Monday 25th February to Friday 1st March 2019 in the SRE2 (museum) building.
2018 Running Dates
The Class 126 DMU, subject to availability, is scheduled to operating the last Bo'ness and Kinneil train service at 15.35 on the following dates:
19th & 20th May
9th & 10th June
21st & 22nd July
1st,15th & 16th September
20th & 21st October
Fund Us
Donate money to the restoration of the Class 126 using the button below. We appreciate any help you can give, every little helps.
Find Us